About Bob Bly
Bob Bly is a full-time freelance copywriter specializing in direct marketing. He earns well over $700,000 a year from his writing, speaking, and consulting, and became a self-made multi-millionaire while still in his 30s.
A copywriter for more than a quarter of a century, Bob has written promotions for more than 100 clients including Phillips, Agora, KCI, 21st Century, Weiss Research, EBI Medical Systems, Sony, IBM, AT&T, Grumman, Crain Communications, McGraw-Hill, Intuit, and AlliedSignal.
McGraw-Hill calls Bob Bly "America's top copywriter." He is listed in Who's Who and was recognized as 2007 Copywriter of the Year by AWAI.
Bob is the author of more than 70 books including The Copywriter's Handbook (Henry Holt) and Public Relations Kit for Dummies (Dummies Series). He has published more than 100 articles in such publications as Successful Meetings, Direct, Business Marketing, Chemical Engineering Progress, Cosmopolitan, Computer Decisions, Writer's Digest, and Amtrak Express.
Bob's writing awards include a Gold Echo from the Direct Marketing Association, an IMMY from the Information Industry Association, two Southstar Awards, an American Corporate Identity Award of Excellence, and the Standard of Excellence award from the Web Marketing Association. He also taught marketing at New York University.
Bob has appeared as a guest on dozens of TV and radio shows including The Advertising Show, Bernard Meltzer, CNBC, and CBS Hard Copy. He has been featured in major media ranging from the LA Times and Nation's Business to the New York Post and the National Enquirer. He was a featured speaker at the 2006 annual conference of the National Speakers Association.
What they say about Bob Bly's copy and counsel
"Good things are happening. I am getting a steady stream of Trial and Demo requests from the new site. These requestors are filling out the entire contact form. The site is simpler now, and I am still working to make it even more so. I appreciate your work."
—Jim Romano, DataForceOne
"Thank you so much for your wonderful work. It has been a pleasure working with you and I look forward to working with you on another project in the near future. You were always available, quick to answer questions and always exceeded my expectations. You truly are a gifted writer."
—Aaron Griffith, The Griffith
"Bob, again thanks for the great copy. You consistently help us reach customers with compelling, actionable content, when others just can't!"
—William McElleney, IBM
"The feedback keeps coming in and we all agree yours was a truly helpful, useful, insightful and effective workshop. You did a fantastic job inspiring the troops and we've already begun applying some of the key learnings."
—Paul Connors, Copywriting Manager, A large financial services company in the Chicago area
"Bob...your creative work, patience, and 'partnership' with us at IT Group has virtually propelled us to another level of business professionalism and recognition. The response we've received from your letters has been nothing short of tremendous. We've not only derived significant business from these unforgettable mailings--your efforts have sparked a creative energy within our ranks which will assist us in years to come. Thanks for your guidance and counsel."
—John A. Fallone, IT Group International
"I hired Bob on his reputation, and found it is well-deserved. His fact-finding process in preparation to write our copy was both painless and enlightening. The final deliverables were right on time as promised, and better than expected – which is saying a lot because my expectations were high. The first time I read his copy for our project, I literally got chills down my back – he nailed it the first time. Wow."
—Dennis Rosenberg, VP Marketing, VNUS Medical Technologies, Inc.
"Bob Bly did an amazing job with our company brochure. We are very impressed with his capacity to learn our product and to write copy so clearly and pointedly. Bob Bly is a great marketing investment."
—Michael Manoussos, Manhole Barrier Systems
"Great white paper! I'm in favor of the entire submission. Please congratulate Bob on a great effort." —Michael C. Howard, Chasm Recovery
"Your Tax Loopholes ad looked great and is performing very well. Thanks for the strong copy."
—Brian Kurtz, Boardroom
"You did an excellent job. It's been a pleasure working with you on this project."
—Edward Brunet, Decatur Professional Development, LLC
"Thank you very, very much for doing such a great job on the ad. I was one of those folks who would read the ads in the DAK catalog by Drew Kaplan and this was as enjoyable for me as that."
—Chris Pickering, MeritDirect
"Bob . . . Just got the copy and advertisement you did for my new book . . . It's great! You are good! Great job . . . you have tremendous insights into what excites and what sells!"
—Don Libey, Libey Incorporated
"In my opinion, you are the best copywriter in the software industry."—Judy MacDonald, Director of Marketing, Direct Response
"When I received the piece, I thought, I'll have to skim over it now and read it later. But, once I started, I couldn't stop! You did a GREAT job with Ken's story. I love it. It kept me reading. I'm VERY pleased with it."
—Craig Simpson, Ken Roberts Company
"Bob, It's been a pleasure to work with you!!! Thank you so much! I'm very happy with the copy; I feel it will give me good results."
—Alejandra P. Bigai, Romanicos Chocolate
"Thanks again for a great job."
—Davis Ross, Ross Advertising
"I just wanted to thank you again for the excellent work you did for us. You are the man and I can't tell you how much I admired your approach and service. Although I've never worked with a copywriter before, I think you set the standard pretty high. I look forward to working with you again. You certainly have my vote for the next round!"
—DP Jovine, Tycoon Research
"Great job – I'm always amazed at how you can boil the complex down into simple terms. It flows very well."
—Kyle Hodgens, Capital Financial Media
"Thank you for the copy. I see why you're the expert. It's so simple, it's brilliant."
—Sau Hyoung Pak, Big Machine
"The radio spots are very well done. I am very impressed with your work and copywriting expertise. We will be making the changes to the print ad as you suggested. In the future we may work with you to design a totally new print ad. Again I'd like to say I'm impressed with your services. You were prompt, informative, and definitely know your stuff. We will be recommending you to others and doing repeat business."
—Joshua Andrews, Health Solutions, LLC
"When people get to the promotion, the promotion has a good conversion rate. In one test, it actually had a 14% conversion to sale... can't ask for much better than that."
—David Galland, Casey Research
"I loved the ad! I don't see any reason for revision so I have already put through a check request for the balance I owe you on the ad. We are very excited about this one. I can't wait to see how it does. Thanks so much!"
—Alice Wessendorf, Agora Health Book
"I show off the work that we did on lead generation for negotiation -- as well as the conversion program from HMCL -- as big successes."
—Paul Szymanski, Harvard Business School Publishing
"Thank you for being very instrumental on making the launch of the wealth management book such a resounding success. It was so successful that we had to request more copies."
—Ingrid Boney, II
"Thanks, Bob! You are awesome to work with."
—Matt Morsa, Stock Secrets, Inc.
"I've spoken to a thousand copywriters over the years and Bob Bly is the best. He knows what he's doing."
—Joe Culotta, Natural Medicine Co.
"I am happy to report to you that your piece out produced the 4 other packages we tested against it. I want to talk to you about another project...."
—Nick Roumi, Pacific Coast Funding
"This is an outstanding letter. Really nice work!"
—Paul Szymanski, Harvard Business School Publishing
"Like the package ... the tone ... I think it's excellent."
—Bill Caskey, Caskey Sales Achievement
"We are very pleased with your copy approach because your copy seems to speak to the neurologist better than the copy in previous promotions. Moreover, your copy presses the sell better and more effectively. I really value your direct marketing copy capabilities and I'm thrilled to have you working with MedLink."
—Jim Chacona, MedLink
"Just wanted to take a moment to sincerely thank you for the hard work and energy you've poured into the Sinatra product package. You are a joy to work with."
—Gail Diggs, Phillips Health
"Thanks again… you did a great job."
—Caleb Cherry, Capital Financial Media
Dear Reader:
A few years ago, I was asked to speak at an assembly of nearly a thousand college seniors from across the country, all of whom were majoring in engineering.
The sponsor, a national engineering association, chose me because they wanted a speaker who had been educated as an engineer – I have a B.S. in chemical engineering -- but works outside the field.
To be honest, I was nervous.
Though I've done lots of public speaking, this was my first time talking to college students ... and I didn't know what to tell them.
Not sure of what to say, I stepped to the podium, looked out across the audience, thought for a second, and then asked: "How many of you want to be successful?"
Of course, nearly everyone in the room raised their hands.
Then, I asked: "Is there anyone who can give me a clear definition of what success is?"
Silence ... and not a single hand raised.
"Then let me ask you a question," I continued. "If you don't know what success is, how will you achieve it?"
Again, no answers -- and no hands in the air.
From that point on, I had them in the palm of my hand, because I had captured their interest by stating a simple – and almost universal --truth:
Most of us want to be successful. Yet most of us haven't really stopped to define specifically what success would encompass for us.
Now, by most definitions, I am not the most successful person in the world.
Warren Buffett is a better investor ... Bill Gates has more money ... Hillary Clinton is more powerful ... Michael Jordan is a better athlete ... Harry Connick Jr. is a more talented singer ... George Clooney is better looking (a LOT better looking) ... J.K. Rowling sells more copies of her books than I do mine.
But, some people in my little niche markets of freelance writing, copywriting, and Internet marketing frequently approach me for success advice.
They want to know how to make more money ... how to become a multi-millionaire ... how to write and publish a book ... how to get paid big fees as a consultant ... and dozens of other things I am actually qualified to answer.
Over the decades, I have counseled literally hundreds of writers, copywriters, consultants, entrepreneurs, and executives on how to achieve the success they seek.
Now, I have boiled down these countless hours of coaching sessions to 25 little-known – but utterly proven – business success principles: things you can do to take your career, your business, even your life to the next level – NOW.
The 25 secrets of outrageous business success
In my audio program, 25 Business Success Secrets, you will discover:
How to create your own personal definition of success – and why you can never achieve lasting wealth and happiness without it. Plus: how to avoid "compare despair."
Tightwad's simple money-management technique gives you the financial freedom to pursue your dreams, even on a modest income.
How to make 2 to 4 times more money than your friends and neighbors. This alone can set you head and shoulders above the crowd.
The only 2 ways to increase demand for your product or service and raise your prices or fees.
Setting your wealth goal: why $2 million is the "new $1 million."
Should you wait until you are financially successful to have children? The answer will shock you.
The most powerful technique for eliminating time wasters ever devised. You can start putting it to work in minutes, and enjoy an extra hour of productive time each day.
The secret to becoming a master deal-maker. Hint: you already possess the key knowledge and skills you need to negotiate like a pro.
Protect yourself from competition with an "economic moat" that makes it difficult from them to dislodge you.
4 "success factors" you need to live a great life. If even one is out of whack, you won't be happy.
Who has greater earnings potential – the specialist or the generalist? The answer may surprise you.
How to make $500,000 a year by playing "small ball." A much easier, quicker, and surer road to business success than trying to be the next Amazon or Microsoft.
Why steel baron Charles Schwab paid Ivy Lee $250,000 for a business management secret that took 10 minutes to learn. Now, it's yours free.
Grab sales where other marketers won't go with the micro-niching strategy.
What you need to know, study, read, and learn to enjoy lasting success in today's competitive marketplace.

A shortcut to success: the "MSMS" model. You can quickly rise to the top, even if you don't have a creative bone in your body -- or an original idea in your mind.
The "Real McCoy" strategy for gaining instant credibility and respect from your prospects and customers.
The lesson of Foxtons: why discounting is almost always a bad strategy for small business ... and what you should do instead when a price war starts in your market.
The 4 types of tasks everyone has on their to-do lists – and the one you must focus on to succeed (hint: it's not the one most people make their priority).
Do little details matter? Or should you concentrate only on big-picture thinking?
The smartest investments you can make with your money today ... and the worst.
5 lists you must post on the wall in your office and update at least daily. If you don't, you'll miss deadlines, appointments, and sales opportunities.
Instant way to overcome the blues and feel positive about your life when things look glum. You can literally do it in 60 seconds no matter where you are. A real mood enhancer!
How to build a tremendously rewarding and profitable career or business by meeting "the world's deep need."
Why you won't get rich trading hours for dollars ... and how to develop multiple streams of passive income that can free you from the rat race within 12 to 24 months.
What Ben Franklin can teach you about not making excuses.
The SWL + SWL = SW formula for ensuring success without the stress.
The one missing ingredient that holds more people back from success than any other ... and how to overcome this obstacle.
And so much more....

What price success?
What does it cost to have someone who is extremely successful – or at least has achieved much of what you hope to achieve – to guide you to your own successes?
My colleague, multi-millionaire MM, once told me that if he coaches individuals, he couldn't charge enough to make it worth his while, even if he set a fee of $10,000 an hour.
I'm not as rich as MM, but my annual income hovers around three-quarters of a million dollars a year.
So if I were to charge for a day of coaching what I would otherwise earn in my business, my fee would be $4,000 to spend the day with me.
But you won't pay $10,000 ... or $4,000 ... or even $300 to learn my most powerful business success secrets.
That's because I'll send you my audio program, 25 Secrets of Business Success, for only $97 ... less than I charge for just 15 minutes of my time.
And you won't pay even that much if you don't think that our collection of business success secrets is worth at least 10 times the cover price....
Use it risk-free for 90 days
If you don't agree that The 25 Secrets of Business Success is the most helpful – and valuable – business advice you get this year....
Or you are dissatisfied for any other reason ... or for no reason at all ... just return the CDs to me (yes, including the bonus CD and the bonus book – see my P.S. and P.P.S. for details) within 90 days.
I'll refund your $97 payment in full. No questions asked. That way, you risk nothing.
One more thing....
In 90 days or sooner, you could be taking your business, your life, even your relationships to a whole new level.
Or, you could continue to chug along -- maintaining the status quo -- earning the same money and working at the same job you do now.
It's entirely up to you.
So what are you waiting for?
To order the 25 Secrets of Business Success on a 90-day risk-free trial basis, just click below now:

Sincerely,
Bob Bly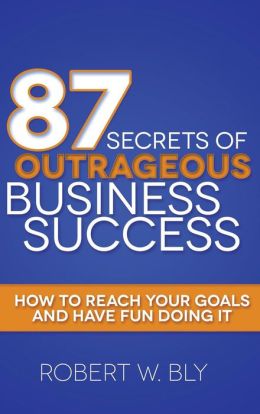 P.S. FREE Gift Book! Get my 25 Secrets of Business Success program today and I'll also send you a FREE Copy of my new book from Morgan James Publishing 87 Secrets of Outrageous Business Success: How to Reach Your Goals and Have Fun Doing it (list price: $17.95).
In this 245-page paperback, you will discover:
The awful truth about "motivation." Page 229.
7 steps to outrageous business success. Page 16.
Type A vs. B: Are you more like Bo Dietl or like me? Page 29.
The 4 keys to success and happiness. Page 118.
How to get really good at almost anything you want. Page 140.
5 horrific mistakes I made that you can now avoid. Page 239.
The 22 undeniable truths of life. Page 84.
The secret to getting others to trust you. Page 65.
5 ways to take the fear and anxiety out of public speaking. Page 121.
The hidden dangers of working a 9 to 5 job. Page 152.
3 reasons you may not write well enough and how to fix each. Page 155.
Improve your personal productivity with the Pareto Principle. Page 161.
5 proven strategies for getting new clients. Page 172.
Motivating consumers with the 4 D's of marketing. Page 176.
7 tips for getting your book published. Page 183.
How to treat your best customers … and your worst. Page 192.
And dozens more….
Between the book and the audio program, you get 112 of my best success secrets for living life on your own terms, enjoying maximum freedom and fun, and becoming a millionaire in the process. All yours for less than a dollar a secret!
P.P.S. Quick-Response Bonus! Order the 25 Secrets of Business Success within the next 7 days and get a SECOND Free Bonus Gift – my new CD, Secrets of Internet Marketing Success (list price: $29).
In it, you will discover:
What it really takes to make a six-figure income in your spare time on the Internet.
Creating best-selling information products – start to finish – in just a few hours.
Ways to build a large opt-in e-list of qualified subscribers who are eager to buy what you are selling.
The little-known secret to picking memorable domain names.
How to make payments from your customers online, even if you do not currently have a merchant account.
The most common mistakes novices make in creating and selling information products online ... and how to avoid them.
Google wants you to bid on keywords. Here's how to determine the price you can afford to pay.
How to write kick-butt landing pages that increase conversions, orders, and sales.
And more....
To order the 25 Business Success Secrets ... and get your FREE Bonus CD and FREE Bonus Book ... click below now: